About Checked Baggage
Please check-in the baggage 20 minutes before your departure time at the latest, if you have such baggage.
Baggage Which Can Be Checked
One piece of baggage with a weight of up to 32 kg and a total height, width, and depth within 203 cm.
A total weight of up to 100 kg. There is no limit to the number of bags.
Please be careful not to check baggage with photographic film left in it.
Weights
Baggage up to 20 kg per person is free.

Overweight and excess baggage fees

apply to baggage from 20 kg to 100 kg.
| Exceeding weight | 1kg-10kg | 11 kg-20 kg | 21 kg-30 kg | Further increments of 10 kg |
| --- | --- | --- | --- | --- |
| All routes | JPY 2,500 | JPY 3,500 | JPY 4,500 | +JPY 1,000 |
Sizes
Contact the AIRDO Reservation and Information Center beforehand for baggage exceeding a total height, width, and depth within 203 cm. There may be instances where baggage cannot be checked due to space.
Sports equipment such as skis, golf bags, and fishing poles can be checked the same as typical baggage. Overweight and excess baggage fees apply to other checked baggage with a total weight of 20 kg to 100 kg.
Note:

Time is needed to check items such as bicycles, so please get to the airport early, and complete the procedures.
Automated Baggage Checking Machine
Note:

Only available at Haneda Airport and New Chitose Airport.
Place your baggage in the machine, and touch your 2D Barcode to the upper right area of the machine. Attach the baggage tag on the baggage after it is printed. The machine door will automatically close. Finally, take the copy of the baggage claim ticket, and the process is complete.
Note:

Available for use by passengers using the SKiP Service and passengers who have completed boarding procedures.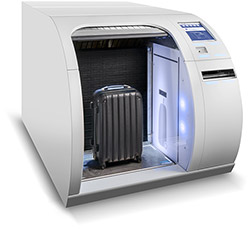 Baggage Claim
When claiming baggage at the destination, it is the responsibility of the passenger to compare the numbers on the baggage tag and the baggage claim ticket before taking their baggage.
Please use caution so as not to mistake the different baggage as there are similar type of baggage in line.
Please inform the airport staff immediately if there is any damage to your checked baggage. Make a report to the arrival airport's contact center between the following day of your arrival date and the next 7 days if you notice any damage once you've already returned home or reached your destination. Please be aware that your report cannot be handled if it is made past this period.
Please understand that AIRDO bears no responsibility for damage applicable to the following.
Damage to baggage from being overweight or overfilled
Damage resulting from the condition of the baggage itself, such as being old and worn out
Loss of removable casters, carrying straps, hooks, name tags, baggage straps, and other protruding attachments
Slight damages (scrapes, nicks, dents, stains)
Baggage Claim Restrictions
Do not put expensive articles like cash, precious metals, precious stones, valuable stock certificates, or expensive antique works of art; or fragile items like clocks, cameras, personal computers, or glass products inside baggage which will be checked. Should damage to or loss of these items occur, AIRDO bears no responsibility.
Baggage whose value has not been declared and personal effects have a compensation amount limit of JPY 150,000 per person. If the actual value exceeds JPY 150,000, the compensation amount limit is considered as the the declared value only if an amount of JPY 10 per every JPY 10,000 of the amount exceeding JPY 150,000 has been paid. However, the compensation amount does not exceed the actual value. Also, please take notice of points which differ from the insurance system as this system applies only in instances where AIRDO is at fault.
Please store things holding liquids like plastic bottles under the seat in front of you in the cabin as they may leak.
Electronic Devices
To prevent any effects on the aircraft's flight, the power of all electronic devices should be turned off if stored inside checked baggage.
Some children's mobile phone models have a function which periodically switches them back on after being turned off in order to provide information on the carrier's location. Please turn off its power completely, or cancel the power-off notification setting.