In-flight Shopping
Original products for purchase from AIRDO,
such as popular BearDo merchandise and products unique to Hokkaido.

NEW
Slidable Pen Case
JPY 1,000
Full of functionality!
This stand-type pen case is the new in thing.
A quick change of this regular pen case into a sturdy pen stand with a simple slide! Perfect not only for pens and stationary items, but also as a makeup bag when you're on the go and need to do some touch ups.
Ordinary size: about 16 cm high (about 12 cm when compact) × about 11.5 cm wide × about 5.7 cm deep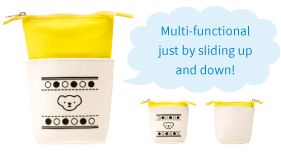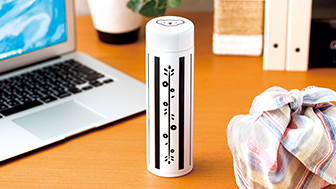 Portable Stainless Steel Thermos
JPY 2,000
An eye-catching design at either the office or outdoors.
A new version of the BearDo design stainless steel thermos. This thermos functioning both for hot and cold can be used year round. Great for use during leisure time as it slides right into bags.
Size: 5.7 cm outer diameter × about 18.8 cm tall
Volume: 300 ml
Body, inner cavity, lid: stainless steel
Rim: polypropylene
Hot insulation: 60°C and above (6 hours)
Cold insulation: 15°C and above (6 hours)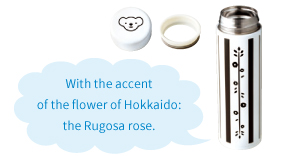 Note:

•Separate purchase, etc. of the rubber seal is unavailable.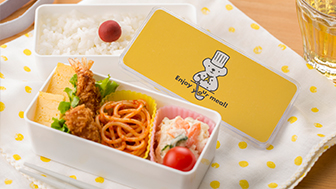 BearDo Lunch Box
JPY 1,000
The perfect size for a kid's lunch box.
This two-level lunch box is fully functional with chopsticks included.
Set contents: Chopsticks, upper lid, 2 middle lids, lunch box levels (upper and lower), and elastic band
Size when lower level is stored: about 13.9 cm long × about 5.3 cm tall (about 8.5 cm with both levels) × about 6.6 cm wide

Note:

•Please remove the upper and middle lids when using a microwave. Purchase of lunch box (included accessories: screwable chopsticks and elastic band) only.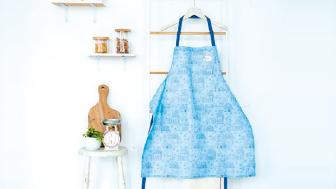 Original AIRDO Apron
JPY 2,000
Perfect as gifts too.
This design incorporating illustrations of Hokkaido's four seasons--owls, Ezo red foxes, the clock tower, and more--upon a refreshing sky blue fabric will light up your kitchen.
Material: 100% polyester
Measurements: about 74 cm long × about 67 cm wide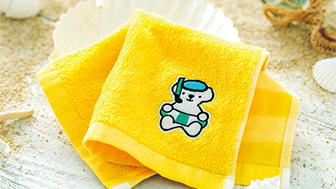 Towel Handkerchief
JPY 700
A smooth and soft feel.
Highlights include the bright yellow color and a summery embroidered BearDo.
Size: about 25 cm long × about 25 cm wide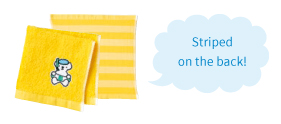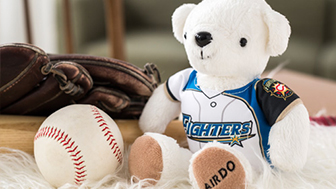 Plush BearDo in Fighters Uniform; Size S:
JPY 1,500
Introducing a new collaboration with the Fighters for our popular plush bears
This mini-sized plush bear uniquely comes with a faithfully reproduced home uniform replica.
Size: about 23 cm in overall length;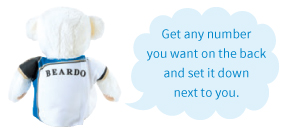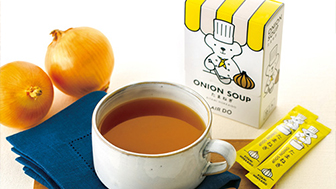 Onion Soup
JPY 500
A popular flavor for the whole family
This richly flavored product is always made with sweet onions from Kitami, Hokkaido.
Volume: 15 × 5-g boxes
Package size: 12.2 cm tall × 8.2 cm wide × 4 cm deep
Hokkaido Soup Set
JPY 1,000
Concentrated flavors from Hokkaido vegetables
This soup variety pack comes with three flavors that let you experience nature's bounty. Recommended as a condiment on risotto, pasta, or similar foods.
Volume: Onion: 12 × 5-g packs; Burdock Root: 10 × 5-g packs; Baked Potato with Butter: 10 × 6.5-g packs
Package size: 14.5 cm tall × 15.3 cm wide × about 4.5 cm deep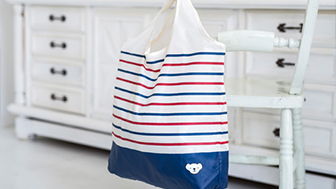 Eco-bag
JPY 500
A hit product in a large size for storing lots of stuff
Our popular eco-bag with a cute stripe pattern. With a storage pouch that can be attached to the handle, this bag is extremely useful for shopping and travel.
Size: about 61.3 cm long × about 36 cm wide
When stored in pouch: About 26 cm long × about 8.4 cm wide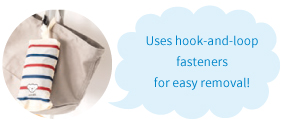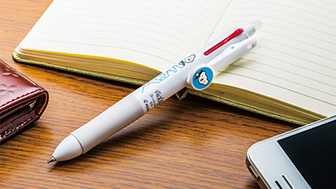 Original AIRDO 3-color FriXion Ballpoint Pen
JPY 700
An erasable ballpoint pen with 3 colors with a new pattern.
Rewrite mistakes after erasing them with the pen's special rubber eraser. Takes ink refills for the 3 colors of black, red, and blue.
Size: about 14.5 cm total length × about 13.8 mm full diameter
Type:Clicker type
Pen tip: 0.5 mm ball (black/red/blue)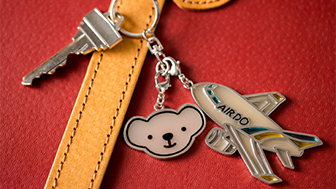 Keychain
JPY 1,000
This keychain set includes a swappable charm
A cute airplane / BearDo keychain and strap set. Enjoy mixing and matching to suit your mood.
Size: Keychain: about 4 cm in total length; strap: about 7.5 cm in total length; airplane (picture): 4.3 cm long × 6.5 cm wide; BearDo (picture): 2.5 cm long × 4 cm wide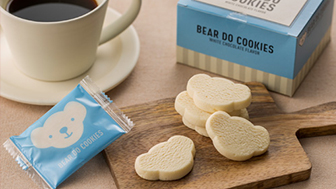 BearDo Cookies (Contains 7 Cookies)
JPY 500
Cute cookies shaped like BearDo
This product is offered in collaboration with "Sekkasei", a famous Hokkaido confection brand. Made with Hokkaido cream and jersey milk, these cookies melt in your mouth like rich chocolate.
Package size: About 10 cm wide × 8.8 cm long × 5.7 cm tall
Volume: 7 cookies
Part of the profits from in-flight sales are donated as recovery support for the Great East Japan Earthquake and other disasters.
Notes:

Products for sale may change without notice.
The prices of all products include consumption tax.
Products are available for purchase on all AIRDO flights.
Props shown within the pictures are not included with sale items.
Only cash payment is accepted.
The actual product may differ from that shown in the picture.
There is a limit to the number of items for sale. Please understand that as a result, they may be sold out.