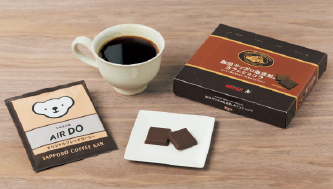 AIRDO Drip Coffee and Coffee Chocolate
JPY 1,000
Enjoy Aromatic Coffee and Chocolate Together
This set includes a drip coffee blend prepared by Sapporo Coffee-Kan for AIRDO and chocolate with special crunchy coffee beans and cacao nibs. Perfect for a moment of relaxation.
Contents: 3 original blended coffee + 72g cafe chocolate (standard 18 pieces)
Package size: length 14.5 cm x width 27.4 cm x height 3 cm
AIRDO ROKONJET (Vulpix) Apron
JPY 2,000
Item Commemorating the Maiden Voyage of ROKONJET HOKKAIDO
Introducing the aprons worn by the cabin crew aboard ROKONJET HOKKAIDO. It features an adorable design with the Pokemon Alolan Vulpix and Vulpix peeking out of the pockets. The neck has button holes so that the length can be adjusted.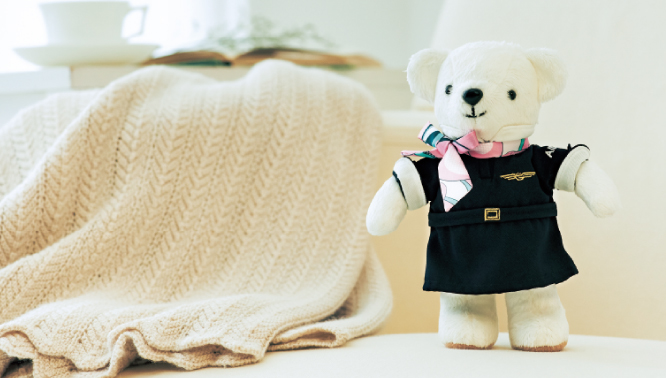 CA Bear Do Plush
JPY 2,000
The Popular BearDo Wearing a Flight Attendant's Uniform
Introducing BearDo in a flight attendant's uniform, following on the heels of our extremely popular BearDo airplane pilot. The slit in the skirt shows off the AIRDO colors. The cuffs are a precise copy of the real uniform. Another feature is that, unlike before, this bear stands up on its own.
Size: total length about 21 cm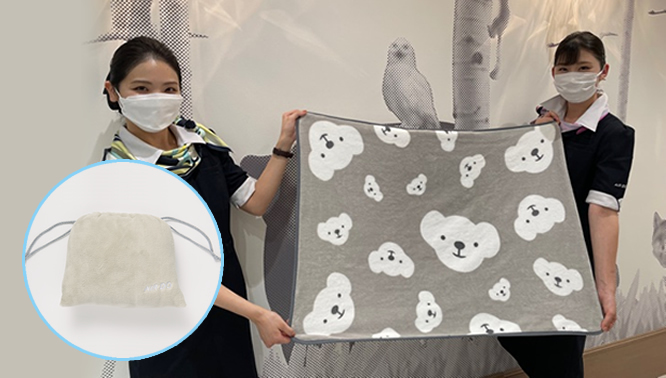 Compact Blanket
JPY 2,000
Light and fluffy, an item you can't go without all year round
A convenient, hand-portable blanket. Feels so nice, you won't want to be without it at home or the office. You can fold and stow it away in the included drawstring pouch, which is great for people on the go.
Size: 70 cm long × 100 cm wide
(Stored in drawstring pouch: About 26 cm long × about 26 cm wide)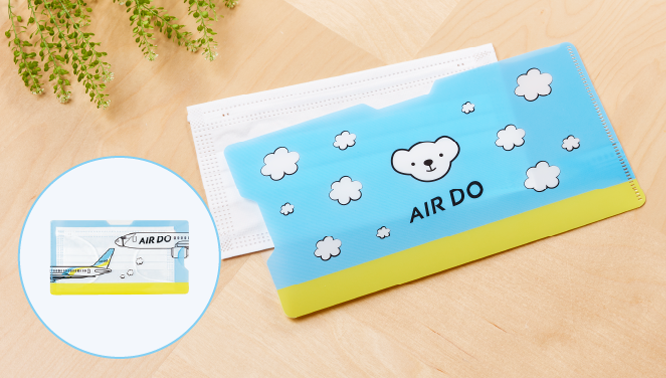 Disposable Face Masks and Mask Keeper
JPY 500
A secure way to store essential masks
This is a set of five non-woven fabric masks made in Japan and a mask case with an original design. The mask case is a clear file folder that can also be used to hold tickets. This is a fun way to spice up your mask-wearing lifestyle.
Set contents: Mask case with an original design (clear file folder, antibacterial properties) × 1, individually wrapped non-woven fabric masks × 5
mask size: about 9.5 cm long × about 17.5 cm wide
Mask case size: about 11 cm long × about 20 cm wide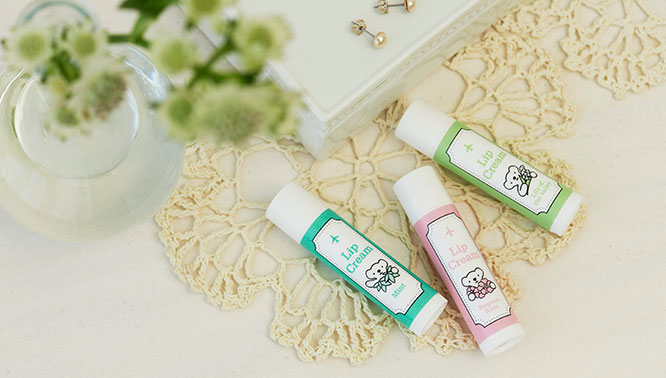 Coroku Lip Balm
JPY 1,000
Gently moisturize your lips with Hokkaido's natural ingredients
Coroku Lip Balm uses natural ingredients and offers three aromatic varieties: mint, rugosa rose, and lily of the valley. Sunflower seed oil from Hokuryu in Hokkaido is rich in vitamin E and hydrates your lips.
Contents: 3 sticks (1 each of mint, rugosa rose, and lily of the valley)
Package size: About 6.8 cm long × 4.8 cm wide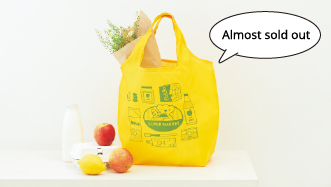 Reusable Shopping Bag
JPY 400
Price reduced
A popular item for compact portability
A handy reusable bag for shopping. It's suitable wide and large enough to hold long items like baguettes. The handles are reinforced so you don't have to worry. It folds into a pocket for compact storage, making it invaluable for traveling.
Size: About 32 cm tall × about 43 cm wide × about 18 cm wide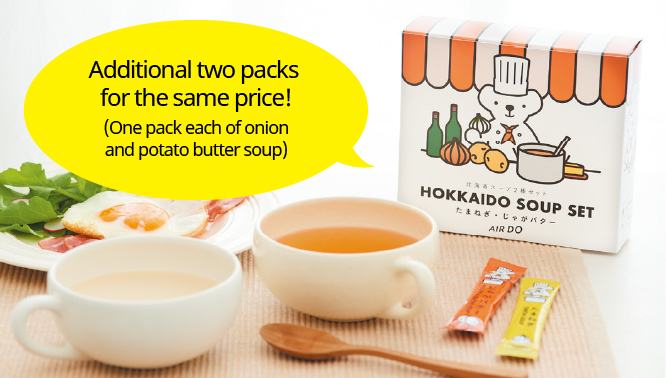 Hokkaido Soup Set, Two Flavors (Onion and Potato Butter)
JPY 1,000
Soup with the intense flavor of Hokkaido vegetables
This double soup set includes onion soup packed with the rich, sweet flavor of Kitami Onions and potato butter soup with the sweet taste of Hokkaido potatoes infused with butter. Have it for breakfast or use it as a secret ingredient in your cooking.
Contents:Onion 5 g × 16 packs, potato butter 5 g × 16 packs
Package size:About 13.5 cm tall × about 15.3 cm wide × about 4.7 cm thick
Notes:

This item should be taken home and eaten there.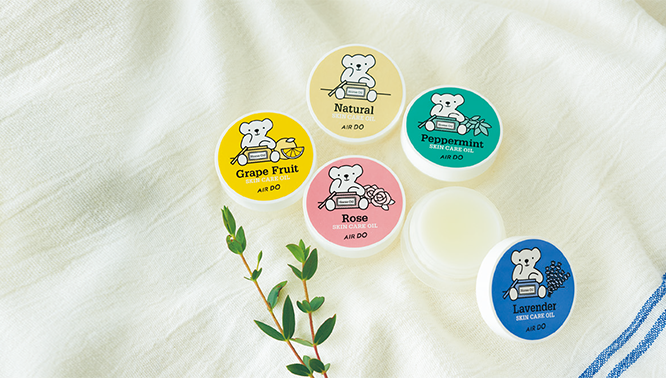 Skin care oil set
JPY 1,000
Gently melted, moist and refreshing horse oil
This highly moisturizing skin care oil contains only natural ingredients, such as horse oil and beeswax. Hokkaido Junbayu Hompo makes it with care using a high-concentration purification technique. Use it for moisturizing after a bath or after shaving (for men). It is safe for infants as well.
Contents: 5 items (1 each of natural, grapefruit, Damascus rose, lavender, and peppermint)
Package size: About 4.5 cm in diameter; outer box about 11.2 cm long × about 11.2 cm wide × about 2.2 cm deep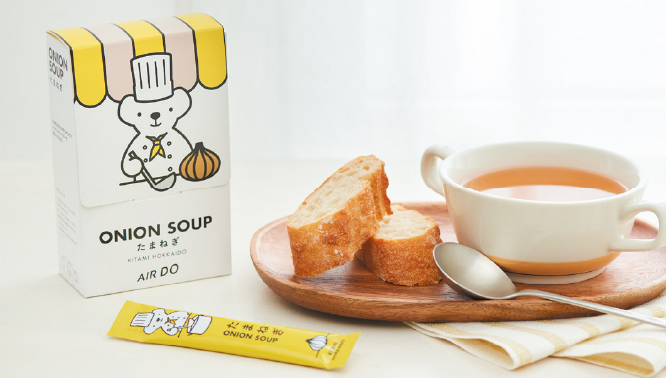 Onion Soup
JPY 500
Richly flavored with onions from the Kitami region of Hokkaido
Onion soup including approximately 50% powdered extract from Kitami Onions--the most widely produced onion in Japan--and packed with their richness and sweetness. Also works great in place of consommé.
Contents:Onion 5 g × 15 packs
Package size:About 13.2 cm tall × about 8.2 cm wide × about 4.2 cm thick
Notes:

This item should be taken home and eaten there.
Notes:

Only cash is accepted as payment. If you present your AIRDO Card to the flight attendant when you make your in-flight purchase, you will receive the following discount from the total amount.
For total amounts of JPY 500 - 1,000, JPY 100 off. For total amounts of JPY 1,001 - 2,000, JPY 200 off. For total amounts of JPY 2,001 - 3,000, JPY 300 off. The discount increases by JPY 100 for every additional JPY 1,000 spent.
Products for sale may change without notice.
The prices of all products include consumption tax.
Props shown within the pictures are not included with sale items.
The actual product may differ from that shown in the picture.
There is a limit to the number of items for sale. Please understand that as a result, they may be sold out.
If you need information on food allergies sold on board,ask a flight attendant.
Sales might be suspended as a measure to prevent the spread of the novel coronavirus.