Passengers with a foreign passport and an international ticket for departure from/arrival to Japan may receive this value fare.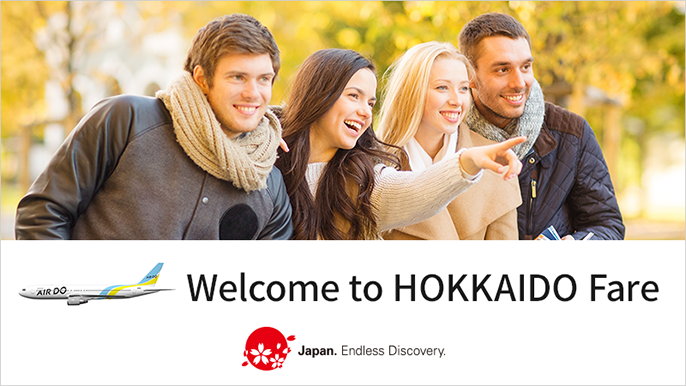 Fare
All AIRDO routes
Limited time price down!
JPY 5,400 per flight
From Oct 1,2018 to Dec 20.
JPY 8,800 per flight
Dec 21,2018.
From Jan 7,2019 to Mar 14.
JPY 9,600 per flight
From Dec 22, 2018 to Jan 6, 2019.
From Mar 15,2019 to 30.
Notes:

Eligible routes: All AIRDO routes
Additional airport fees may apply.
Eligibility
Residence Outside Japan
Non-Japanese passport required at time of boarding.
Using International Flights
Applicable to passengers using international flights in any class on any airline to or form Japan.
Upon request, Passengers must present their non-Japanese passport. Additionally, the international flight information (e-Ticket itinerary / receipt) to and from Japan must be presented at check-in for domestic flights.
Terms and Conditions
Children/Infant Discounts
No discount applies to children (same as for adults). Free of charge for infants under the age of 3 and not occupying a seat.
Reservation and Purchasing Period
Valid from the date specified by AIRDO
※From July 1,2018
Payment Deadline
| Date of Reservation | Payment Deadline |
| --- | --- |
| Over 5 days prior to the boarding date | Within 4 days including the date of reservation |
| Between 4 days and 1 day prior to the boarding date | 1 day prior to the boarding date |
Note:

When reserving multiple flights which have different payment deadlines, the earliest payment deadline will be applied to the entire reservation.
Changes
The reservation and the name of the passenger cannot be changed. Even if seats are available on an earlier flight to the same destination on the departure date, changes cannot be made.
Limitation of Available Seats
The availability of this fare is limited on each flight (it may also not be available on certain flights).
Refunds
Refundable within 30 days* after the ticket's validity. Fees (refund fee and cancellation fee) will be applied.
*Applicable to tickets whose validity period expires on or after June 20, 2018, tickets will expire within 10 days before June 19, 2018.
Note:

Fares and conditions are subject to change without prior notice.