A super saver for customers aged 65 and above!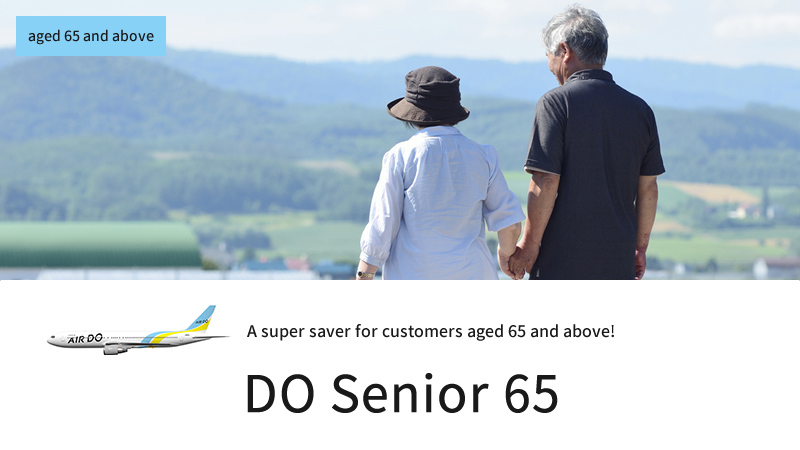 Available for people age 65 and older.
My AIRDO*1 members can make reservations and purchases, and can use the Online Check-in*2 from the flight's boarding date (starting at 12:00 a.m. on the boarding date using the AIRDO website) after coming by the airport counter, presenting official documentation, and registering to confirm their date of birth*3 or registering their AIRDO card on My Page.
Customers who have not enrolled in My AIRDO can be assisted at the airport counter on the boarding date.
*1 You can enroll in My AIRDO on the AIRDO website free of charge.Click here to register.
*2 About Online Check-in.
*3 At Fukuoka Airport, registering to confirm date of birth is possible only during the flight period(From 01 July to 29 Oct,2022).

View Fares
Routes
Aug 1st
~
Aug 31th
Sep 1st
~
Oct 28th
Oct 29th
~
Nov 2nd
Nov 3rd
~
Nov 5th
Nov 6th
~
Dec 14th
Dec 15th
~
Jan 8th
2024
Jan 9th
2024
~
Feb 22nd
Feb 23th
2024
~
Feb 25th
Feb 26th
2024
~
Feb 29th
Mar 1st
2024
~
Mar 30th
Tokyo
⇅
Sapporo
JPY 16,300
JPY 13,400
JPY 14,000
JPY 17,000
JPY 14,000
JPY 17,000
JPY 14,000
JPY 17,000
JPY 14,000
JPY 17,000
Tokyo
⇅
Asahikawa
JPY 17,800
JPY 14,600
JPY 15,000
JPY 18,000
JPY 15,000
JPY 18,000
JPY 15,000
JPY 18,000
JPY 15,000
JPY 18,000
Tokyo
⇅
Memanbetsu
JPY 17,800
JPY 14,600
JPY 15,000
JPY 18,000
JPY 15,000
JPY 18,000
JPY 15,000
JPY 18,000
JPY 15,000
JPY 18,000
Tokyo
⇅
Kushiro
JPY 17,800
JPY 14,600
JPY 15,000
JPY 18,000
JPY 15,000
JPY 18,000
JPY 15,000
JPY 18,000
JPY 15,000
JPY 18,000
Tokyo
⇅
Obihiro
JPY 17,800
JPY 14,600
JPY 15,000
JPY 18,000
JPY 15,000
JPY 18,000
JPY 15,000
JPY 18,000
JPY 15,000
JPY 18,000
Tokyo
⇅
Hakodate
JPY 16,300
JPY 13,100
JPY 13,400
JPY 17,000
JPY 13,400
JPY 17,000
JPY 13,400
JPY 17,000
JPY 13,400
JPY 17,000
Routes
Aug 1st
~
Aug 31th
Sep 1st
~
Oct 28th
Oct 29th
~
Nov 2nd
Nov 3rd
~
Nov 5th
Nov 6th
~
Dec 14th
Dec 15th
~
Jan 8th
2024
Jan 9th
2024
~
Feb 22nd
Feb 23th
2024
~
Feb 25th
Feb 26th
2024
~
Feb 29th
Mar 1st
2024
~
Mar 30th
Sapporo
⇅
Sendai
JPY 16,300
JPY 13,100
JPY 13,400
JPY 17,000
JPY 13,400
JPY 17,000
JPY 13,400
JPY 17,000
JPY 13,400
JPY 17,000
Sapporo
⇅
Nagoya
JPY 17,800
JPY 14,600
JPY 16,000
JPY 18,500
JPY 16,000
JPY 18,500
JPY 16,000
JPY 18,500
JPY 16,000
JPY 18,500
Sapporo
⇅
Kobe
JPY 17,800
JPY 14,600
JPY 16,000
JPY 18,500
JPY 16,000
JPY 18,500
JPY 16,000
JPY 18,500
JPY 16,000
JPY 18,500
Hakodate
⇅
Nagoya
JPY 17,500
JPY 14,600
JPY 16,000
JPY 18,500
JPY 16,000
JPY 18,500
JPY 16,000
JPY 18,500
JPY 16,000
JPY 18,500
Sapporo
⇅
Fukuoka
JPY 17,800
JPY 14,600
JPY 17,000
JPY 21,000
JPY 17,000
JPY 21,000
JPY 17,000
JPY 21,000
JPY 17,000
JPY 21,000