A super saver for customers age 12 to 25!
Available with walk-in reservations and the SKiP Service for even more convenience!!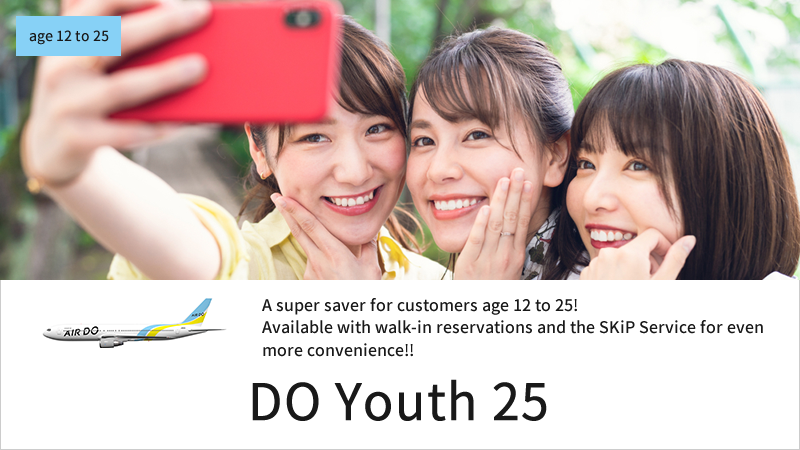 Available for people age 12 to 25.
My AIRDO*1members can make reservations and purchases on the flight's boarding date (starting at 12:00 a.m. on the boarding date using the AIRDO website) and use the SKiP Service*2 after coming by the airport counter, presenting official documentation, and registered to confirm their date of birth.
Customers who have not enrolled in My AIRDO can be assisted at the airport counter on the boarding date.
*1 You can enroll in My AIRDO on the AIRDO website free of charge.Click here to register.
*2 SKiP Service is a registered trademark of ANA.

View Fares
Routes
Jan 19th
~
Mar 4th
Mar 5th
~
Mar 11th
Mar 12th
~
Mar 27th
Mar 28th
~
Mar 31th
Apr 1st
~
Jul 1st
Jul 2nd
~
Jul 8th
Jul 9th
~
Aug 31th
Sep 1st
~
Oct 30th
Tokyo


⇅

⇄


Sapporo
JPY 11,300
JPY 11,300
JPY 16,200
JPY 12,700
JPY 10,700
JPY 12,700
JPY 16,900
JPY 10,700
Tokyo


⇅

⇄


Asahikawa
JPY 11,300
JPY 11,300
JPY 16,900
JPY 13,300
JPY 11,300
JPY 13,300
JPY 17,500
JPY 11,300
Tokyo


⇅

⇄


Memanbetsu
JPY 11,300
JPY 11,300
JPY 17,000
JPY 13,300
JPY 11,300
JPY 13,300
JPY 18,400
JPY 11,300
Tokyo


⇅

⇄


Kushiro
JPY 11,300
JPY 11,300
JPY 16,900
JPY 13,300
JPY 11,300
JPY 13,300
JPY 17,500
JPY 11,300
Tokyo


⇅

⇄


Obihiro
JPY 11,300
JPY 11,300
JPY 16,900
JPY 13,300
JPY 11,300
JPY 13,300
JPY 17,500
JPY 11,300
Tokyo


⇅

⇄


Hakodate
JPY 11,200
JPY 11,300
JPY 16,100
JPY 12,700
JPY 10,700
JPY 12,700
JPY 16,900
JPY 10,700
Routes
Jan 19th
~
Mar 4th
Mar 5th
~
Mar 11th
Mar 12th
~
Mar 27th
Mar 28th
~
Mar 31th
Apr 1st
~
Jul 1st
Jul 2nd
~
Jul 8th
Jul 9th
~
Aug 31th
Sep 1st
~
Oct 30th
Sapporo


⇅

⇄


Sendai
JPY 11,300
JPY 11,300
JPY 12,300
JPY 11,800
JPY 9,800
JPY 11,800
JPY 12,300
JPY 9,800
Sapporo


⇅

⇄


Nagoya
JPY 11,300
JPY 11,300
JPY 16,900
JPY 13,300
JPY 11,300
JPY 13,300
JPY 17,500
JPY 11,300
Sapporo


⇅

⇄


Kobe
JPY 11,300
JPY 11,300
JPY 17,600
JPY 13,300
JPY 11,300
JPY 13,300
JPY 18,400
JPY 11,300
Hakodate


⇅

⇄


Nagoya
JPY 11,300
JPY 11,300
JPY 16,900
JPY 12,700
JPY 10,700
JPY 12,700
JPY 16,900
JPY 10,700