Size of Baggage Which Can Be Carried On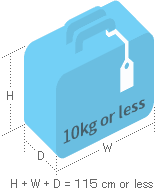 One piece of baggage with a total height, width, and depth within 115 cm (within 55 cm × 40 cm × 25 cm) with a weight of 10 kg or less
, in addition to personal effects (handbags, cameras, umbrellas, etc.) may be brought aboard. Please check baggage, jute bags, and wheeled suitcases exceeding this size at the airport counter.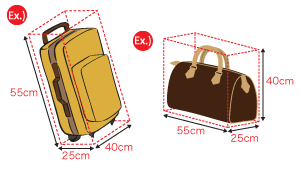 However, even when baggage is within the size previously mentioned, there may be times when it must be stowed as checked baggage because there is no space in the passenger cabin. We ask for your understanding in this matter.
Please check carry-on baggage which is larger than the prescribed size at the baggage counter before passing through the security inspection.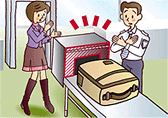 ≪A Favor from the Cabin≫
Please stow baggage under the seat in front of you or in the shared overhead bins above your seat in the name of both safety and comfort. Carry-on baggage cannot be stowed near your feet when sitting in seats next to emergency exits or in bulkhead seats.

---
Special Passenger Fare
In instances such as bringing fragile baggage (instruments, paintings, etc.) exceeding the carry-on baggage size aboard, and 2 or more seats are needed for one passenger, the special passenger fare is applied.
Special passenger fare: JPY 11,500 (tax included) per seat for all routes
Note:

A refund fee is applied when refunding only the special passenger fare.
Refund fee: JPY 440 (tax included)
Notes:

Refunds for cancellations made by the departure time are valid only within the fee ticket's term of validity or within 30 days of the day following the term of validity's final day.
Refunds for cancellations not made by the departure time require a JPY 4,000 cancellation fee. In addition, refunds are valid from the following day of the planned date of use of the fee ticket.
Please contact the Reservation and Information Center, AIRDO counter, or travel company for reservations and purchases of seats with the special passenger fare. (Not available over the internet.)
---
Carrying On Syringes (Needles)
The carrying of personal syringes for use with things like insulin injections on board is allowed. Inform the staff at the security inspection that you are carrying personal syringes (needles).