Waiting for Seats on Full Flights
If seats for your desired flight are full, you may wait for one to become available.
Procedure with Waiting for Seats on Full Flights
STEP1

Get a standby card at self check-in machine
In order to get a seat waiting card, need "credit card used for payment", "2D barcode", "e-ticket itinerary", or "boarding pass".
Please select all flights for which want to standby.
Passengers who have a reservation, please check-in first.
Need to pay ticket in advance.
Attention
Only available to standby for on the day of flights.
Not available to standby for a flight that departs later than the reserved flight.
If want to standby for a connecting flight on the day, please apply at the counter where the staff is.
If the fare being used does not allow reservation changes, such as AIRDO Special 75, 55, 45, 28, or 21; or DO Value 3 or 1; you cannot wait for a seat.
STEP2

Pass through security checkpoint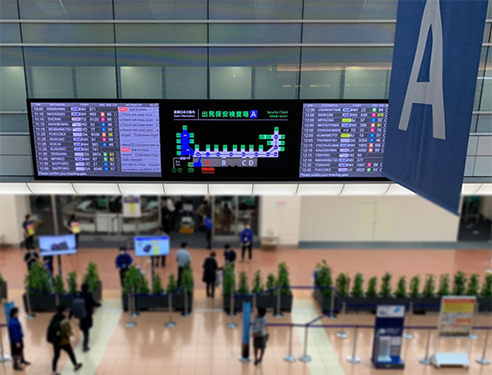 After receiving standby card, please proceed to security checkpoint.
Please touch "2D barcode", "e-ticket itinerary" or "boarding pass" to the reader.
Attention
From April 1, 2020, standby paging will be made at the gate area.
If standby by an open ticket, please touch the open ticket.
STEP3

Call and self check-in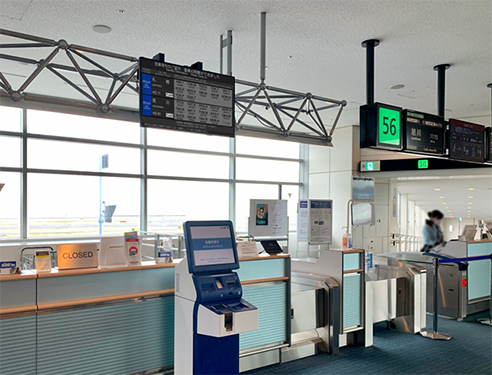 ■ Call time
About 20 minutes before departure
■ Place
Standby place will be printed on standby card.
■ Baggage
Please ask our staff in advance and bring your baggage to boarding gate or counter (depending on airport). If boarding with pet, please pay pet charge at the baggage counter before passing through the security checkpoint.
■ Calling
A part of name and standby number of passenger who has been assigned a vacancy will be displayed on digital signage near boarding gate. After confirmation, please complete check-in by self check-in machine.
Attention
Not be able to board unless complete check-in by self check-in machine.
If ticket cannot be processed by self check-in machine, our staff will respond.
■ Category
Called by standby category.
In the same category, order may be changed depending on ticket fares.
Type
Applicable to
A
Not available for AIRDO fares
B
C
D
E
F
G
One Way・Round Trip・Child・Disability Discount Fare
Shareholder Complimentary Discount Fare
DOMIN Fares・DO Business
Round Trip Fare From HOKKAIDO・Award Ticket ...etc.
H
Others
J
Attention
Flight cancelled passengers calls may be given priority
Canceling Standby Status (Refund)
Open tickets (unreserved) purchased the day of at the airport are refunded without a refund fee applied only when a standby ticket or e-Ticket receipt is presented at the appropriate counter. A refund fee is applied when a request for a refund is made at a later date or at another airport.
Important Notes Regarding Waiting for a Seat
When waiting for a seat on a flight departing before the reserved flight, the boarding procedure for the reserved flight can be done, but baggage cannot be checked (if baggage has been checked, changes can only be made to the reserved flight).