Checking Pets
Pets allowed to be checked as cargo include dogs, cats, small birds, and other small animals (squirrels, hamsters, etc.). Complete procedures at least 30 minutes before your flight's departure time as confirmation of the Consent and Release form at the airport is necessary.
【Pets in the following health conditions cannot be transported】
Your pet is not in a condition fit for air travel.
Your pet is pregnant.
Your pet is very young (less than four months old).
Your pet has a heart problem or a respiratory disease.
The transportation of short-nosed dog breeds is suspended every summer from May 1 to October 31※. This is because they are more affected by high temperatures than other breeds, and may suffer from heatstroke and respiratory difficulties.

From 2018 onward, the period for which the transportation of short-nosed dogs is suspended has changed.
Breeds Subject to Handling Suspension from May 1 to October 31.
Bulldog, French Bulldog, Boxer, Shih Tzu, Boston Terrier, Bull Terrier, King Charles Spaniel, Tibetan Spaniel, Brussels Griffon, Chow Chow, Pug, Chin, Pekingese.
Passengers with Fishes, Turtles, or Insects
Up to about 3 fishes(such as goldfishes), turtles (small, about 10 cm), or insects (rhinoceros beetles, stag beetles, etc.) may be brought aboard after both being put into a small container so as not to disturb other passengers, and also being examined by staff to make sure the animals cannot escape or that no water leaks.
Even though the conditions above have been met, there still may be instances where your pet(s) cannot be brought aboard.
Note:
Insects which make sounds, such as katydids and bell crickets
Instances when a container is packed in a way not allowing it to be stored under the seat in front of you
Instances when it is judged that your pet(s) will cause discomfort to other passengers
Containers having pumps with power generation equipment, etc. (also unavailable for check-on)
Amphibians(such as salamanders) and reptiles(such as lizards) cannot be brought into the cabin or checked in as baggage.
Sizes of small containers which can be checked Within the size of a 30 cm width × 22 cm height × 20 cm depth (approximate)
Note:

Please store under the seat in front of you.
Please contact the Reservation and Information Center beforehand for details.
Transport Environment for Pets
After completing the boarding procedure, pets are kept in an air-conditioned room until the boarding time, and are loaded into the aircraft's cargo hold. The environment within the cargo hold is as written below.
Lighting:

Lights are turned off during the flight, and the room becomes dark.

Temperature/humidity:

Temperature and humidity are regulated by an air conditioning unit, but due to such effects as the air outside, the environment in the cargo hold may differ from that of the passenger cabin. Especially in summer, the cargo hold is affected by air temperature and reflected heat, creating high temperatures.

Sound:

The sounds of machines operating and wind noise occur during take-off/landing and while in flight. The sounds of the aircraft as well as vehicles on the tarmac can also be heard during passenger boarding and exiting.
Cages
Passengers' personal cages can be checked as is if they are made of materials can endure air transport, such as plastic (excluding cages made of rattan, wood, cloth, etc.), and can be locked with a key. As cages made of rattan, wood, cloth, etc. are not accepted as is for checking, passengers may either put the cage with their pet(s) already inside into cages provided by AIRDO, or transport their pet(s) from the personal cage to an AIRDO cage to be checked. AIRDO cage sizes are as written below.
AIRDO cages (width×depth×height)
S size
40cm×55cm×40cm
M size
50cm×70cm×55cm
L size
55cm×80cm×60cm
LL size
65cm×95cm×70cm
Note:

The sizes above are approximate sizes.
Favors in Accordance with Checking as Cargo
Please check 1 dog, cat, etc. in 1 cage. About 2 of the same species of small bird, etc. can be put into 1 cage (as long as they can be put into the M size).
Drinking water, food, etc. cannot be put into the cage. Also, drinking water and food cannot be supplied after your pet(s) has/have been checked, so please take care of this before checking it/them.
However, if you have a water dispenser which meets the following conditions, the cage may be checked with the water dispenser inside.
The water dispenser can be securely attached to the cage
The water dispenser is a nozzle type which does not leak water when turbulence or vibration occurs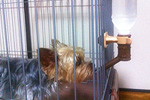 Protection Against Heat
A service putting cold insulators and water dispensers into pet cages is provided during the summer season (May 1 - October 31). Passengers who wish to use this service, please ask the airport staff.
Checking Fee
A pet fee is necessary to check pets, regardless of whether a cage will be used or not.
Pet fee: JPY 6,000 (tax included) per pet cage's storage space
Inform the staff of the information regarding the checking of your pet(s) at the time of the boarding procedure, and pay the pet fee at the pet check-in counter.
Application
Upon completing the boarding procedure on the departure date, check your pet(s) at the baggage check-in counter at least 30 minutes before departure.
Sign and submit the Consent and Release form.
Pay the pet fee. (Cash or credit card)
Download and print the Consent and Release form at home, and after filling it in, submit it to the airport check-in counter on the boarding date.