Passengers with Disabilities
At AIRDO, we make all the necessary preparations to provide our passengers worry-free trips.
Consider the Following to Make Use of Our Services with Peace of Mind
Inform staff regarding the degree of special assistance you would like at the time of boarding when making your reservation if you have trouble walking and have a disability such as visual/hearing impairments, or have trouble walking on your own.
The cabin environment during flight differs from that on the ground. Consultation with your attending physician beforehand is recommended if you have any concerns regarding boarding.
Due to safety reasons, passengers with disabilities are not allowed to sit in a seat next to an emergency exit.
Passengers Requiring a Medical Information Form
The Medical Information Form is required at the time of boarding if any of the points below apply. Also, aid provided to passengers in regard to eating and restroom use is the responsibility of the accompanying person (the AIRDO staff and cabin crew are unable to aid in these situations).
Passengers using medical oxygen cylinders or medical equipment

Note:

If you have a serious illnesses or injury
If you have an injury, are undergoing medical treatment for an illness, or have recently undergone surgery, and your health may be affected by air travel.
Please have a Medical Information Form printed within 14 days of the first day of your trip ready. The Medical Information Form can be downloaded as a PDF file by clicking the "Download" button.
Medical Information Form and reference documents (Approx. 846 KB)
Filling Out the Medical Information Form
The ANA Disability Desk
Inquiries are taken from customers with illnesses, injuries, or disabilities regarding use of aircrafts in order to provide peace of mind and comfortable journeys through the skies.
Business hours: 9:00 a.m.-5:00 p.m.
Toll-free number:

0120-029-377 (Only available from within Japan.)

International number:

+81-570-029-377

FAX:

0120-029-366 (Only available from within Japan.)
Passengers Who Have Difficulty Hearing and Speaking
A special contact number is available in regard to reservations and information for passengers who have difficulty hearing and speaking. Please fax us your name, age, telephone number, fax number, preferred boarding date and time, and preferred flight. AIRDO responds by fax the day of, or by the following day of reception. If special assistance will be required, please inform us of the assistance details at the time of the reservation.
FAX:

+81-11-707-2288
Wheelchairs
Wheelchairs are available at all airports. Wheelchairs for use within the cabin are also available. Please inform the ANA Disability Desk (For Customer with Wheelchair Check List) when making your reservation if you wish to use one.
If you will be using your own wheelchair, again, please inform us when making your reservation.
Personal wheelchairs are accepted as checked cargo, and an airport wheelchair is provided. When using stairs (to the plane), rest assured that staff will be available to assist you.
If you will be using an electric wheelchair, please inform us of the size, weight, and battery type when making your reservation. Also, please come to the airport counter at least 60 minutes before the departure time.
Note:

There are restrictions by law regarding the checking and carry-on of lithium-ion batteries for electric wheelchairs. Learn more.
Pre-boarding Service
Passengers with disabilities are allowed to board before other passengers. If you wish to use this service, please go to the boarding gate approximately 30 minutes before the boarding time.
Note:

This service may not be available due to flight status, etc.
Simple Devices for Written Communication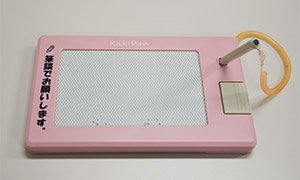 Simple devices for written communication are available at sales counters in each airport as well as within the aircraft cabin.
Braille Airplane Safety Booklets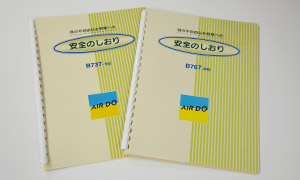 Airplane safety booklets describing what to do in cabin emergencies are available in Braille.
(Only available in Japanese)
Guide Dogs, Hearing Dogs, and Service Dogs
Guide dogs, hearing dogs, and service dogs which assist those with disabilities may be brought aboard free of charge by passengers who require their services. Please come to the check-in counter approximately 1 hour before the boarding time on the boarding date. When completing the boarding procedure, staff checks the guide dog's harness; indication on the vest, etc. that the dog is a service dog or hearing dog; and documentation such as certification stating that the dog is used in assistance with those with disabilities.