Requests while in the cabin
Requests while in the cabin
Please pay attention to the pre-takeoff briefing concerning emergency equipment in the aircraft (video and demonstration by flight attendants). Please pay attention to the safety information provided by the flight attendants.
Before takeoff
Please take your assigned seats and fasten your seatbelts. The airplane will take off after we confirm that all passengers are seated.
Assistance in operating doors
The cabin crew will operate the doors before takeoff and upon landing. After performing the door operations, the cabin crew will come to provide assistance to passengers requiring it.
When the seatbelt sign is on
Keep your seatbelt fastened at all times in case of sudden turbulence. If you are using a blanket, secure your seatbelt over the blanket. While the seatbelt sign is turned on, please remain in your seat as turbulence can be expected. Please use the lavatory when the seatbelt sign is off.
Flight attendants will attend to passengers seeking service once the seatbelt sign is turned off.
For your comfort
There have been incidents where luggage has fallen and caused injury to others while passengers were stowing and removing hand luggage. Please take care when stowing and removing your hand luggage.
Hand luggage can also be placed under the seat in front of you.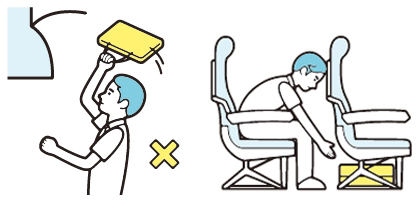 Water bottles and PET bottles that have already been opened are susceptible to leaking due to changes in air pressure during the flight. Please refrain from stowing them in the overhead compartment, and use the seat pocket instead.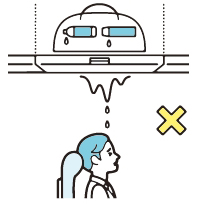 Please be mindful of the person behind you when reclining your seat.
Please take care when opening and closing the table.
Passengers with children
Please take care that your child's fingers do not get pinched by the seatbelt buckle, the armrest, or the folding table. Please also take care that your child's fingers do not get caught in the lavatory door or waste bin lid.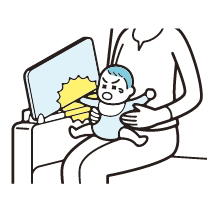 There is one more oxygen mask than the number of seats. Because of the limited number of oxygen masks, no more than one infant may sit in the same row (except when individual seats are secured).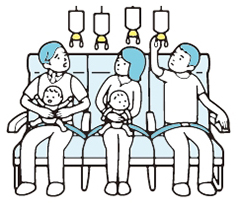 Please cooperate during an emergency evacuation
In the unlikely event of an emergency, please follow the instructions of the cabin crew and remain calm. Customers sitting near an emergency exit will be asked to give assistance during an emergency evacuation. Please check the card "[EXIT SEATING] IF YOU ARE ASSIGNED TO EXIT ROW SEAT..." in the seat pocket, and be sure to confirm the details concerning assistance before takeoff. If you have any questions, please ask a flight attendant.
Request for assistance during an emergency evacuation
To ensure a rapid, safe evacuation, leave behind all hand luggage. You cannot assume the correct escape posture if you are carrying hand luggage. Hand luggage may get caught in the seat and impede your escape. Remove high heels before evacuating. Before sliding down the vacuation chute, spread your legs to shoulder width, put your arms in front of you, and tilt forward as much as possible.

After evacuating, move far away from the aircraft.
A flight attendant may ask you to provide assistance during an emergency evacuation. Please cooperate with the flight attendant at that time.
During an emergency evacuation, please encourage others by saying, "Stay calm, it will be OK." Stand by the side of the chute and assist the person who slides after you by pulling on that person's arms.
Tell them to distance themselves from the aircraft by saying, "Move far away."