A specific flight discount fare for reservations/purchases made at least 3 days in advance.
Reservation changes
Seat availability limited
Reservations
Valid from the date specified by AIRDO until 3 days prior to the boarding date.
A reservation waitlist is available for level A. Reservation waitlist service is not available for levels B and C.
Payment deadline

Reservations up to 7 days prior to the boarding date:


You must pay within 4 days, which include the day the reservation is made.


Reservations 6 to 3 days prior to the boarding date:


You must pay at least 3 days prior to the boarding date.
Period of validity for flight tickets
Valid only for the reserved flight.
Child passengers
Children between the ages of 3 and 11 and children under 3 who are using a seat will automatically get either the DO Value 3 or the Specific Flight Children Discount Fare applied, whichever gives the lower price.
Change

Reservations cannot be changed.

Note:

Reservation changes will not be allowed on the day of boarding even if an earlier flight at the airport of departure has empty seats.

Refunds
Refunds must be requested within 30 days, starting on the day after the reservation's departure date.
Click here for more on refund fees and cancellation fees.
Remarks
The number of seats available on each flight is limited.
 (The AIRDO Special fares might not be established for some periods and flights.)
Online reservations and purchases
Available.
Note:
What Are Levels?
A different level of fare is applied to DO Value 3.
A bargain fare (level) is set to flights expected to have many open seats.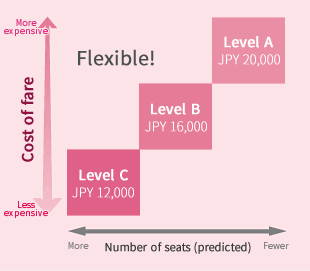 Note:

The fares shown above are not actual fares.