The AIRDO Website's Renewal
Aug 28, 2017
Providing a sense of thrill and excitement to our customers' journeys
AIRDO (AIRDO Co., Ltd.) will release its new website, with high-grade design and a high level of usability, on September 1.
This new website delivers to you the feeling of adventure in all of the information listed with highly functional seat availability pages and high quality imagery, and also allows problem-free reservations and purchases. In addition, by connecting to social media networks like LINE and YouTube, AIRDO is able to deliver the information its passengers want in a timely manner, and provides total support from trip preparation to arrival.
1. Background of New Services and Their Aim
With the spread of the internet and mobile devices, the way our passengers travel is changing. Also, with the rapid increase in people visiting Japan, availability in multiple languages, quick delivery of information, as well as proper communication to meet the demands of our customers is necessary. Keeping up with the changes in this market environment, we at AIRDO sought to create a website incorporating creative functions and design using advanced technology, which would make both the delivery of information as well as communication possible.
2. Main Characteristics of AIRDO's New Services
(1) Use of Advanced Technology
Introduction of Fully Responsive Design
In response to the screen sizes of the devices (PCs, tablets, and smartphones) used by our customers, responsive technology is used on all pages, allowing the best display. As a result, regardless of the device, display and functions can now be easily viewed and used.
(2) High Level of Usability with Reservations and Purchases
Displaying Recommended Fares Three Days Before and After
Recommended fares are displayed three days before and after, as well as including, the desired departure date. In addition, with a round trip itinerary display, customers can decide their itinerary simply and in an easy-to-understand manner.
Functions of the Monthly Lowest Fare Calendar
The lowest fares regarding a specified route for a month are displayed for each date.
Expansion of Internet Purchase Functions
Purchasing the Disability Discount Fare is available on the internet.
Images
PCs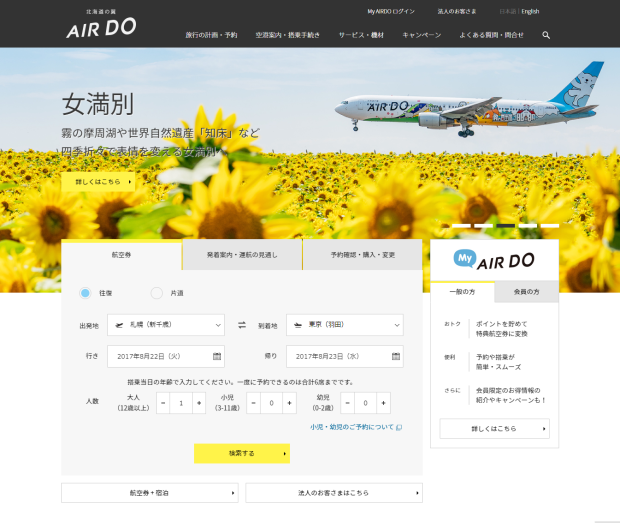 Smartphones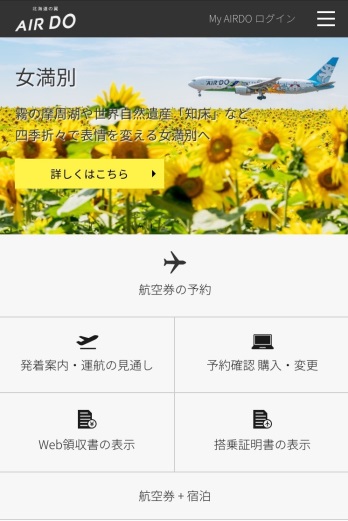 Show recommended fares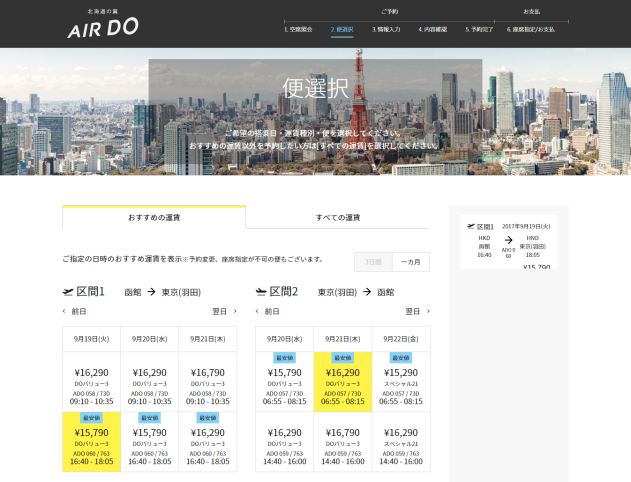 (3) Improvement of Accessibility by Travelers to Japan from Abroad
Multilingualization of the Site
With the increase of travelers to Japan, multilingualization of the site is moving forward (starting with service through the English site).
Introduction of a Page Offering Exclusive Fare for Travelers to Japan
A page for the Welcome to HOKKAIDO Fare has been created, making it easy to find out about relevant fares.
* In addition, together with the introduction of this new website, linkage between sites is being heightened by strengthening the functionality of the AIRDO membership program, My AIRDO, as well as the corporate AIRDO Biz system.
3. Renewal Commemoration Promotion
The following two promotions will be held from September 1-October 31, 2017.
(1) The LOVE ♡ HOKKAIDO AIRDO Website Renewal Promotion
1. Concept
Winners chosen from all participants will receive a complimentary round trip ticket departing from or arriving to Tokyo (Haneda) or a special Hokkaido product as our gift.
2. Entry Period
Fri, Sep 1-Tue, Oct 31, 2017
3. Prize
| | |
| --- | --- |
| Your choice! Round trip ticket departing from or arriving to Tokyo (Haneda) | 5 pairs of two, totaling 10 people |
| Co-up Guarana (1 case of 24 500 ml bottles) | 10 people (Provided by Obara Co., Ltd.) |
| Original Assortment from SATO-SUISAN | 10 people (Provided by SATO-SUISAN) |
| Hokkaido Crops of Autumn Tasting Set | 10 people (Provided by Hokuren Agricultural Cooperative) |
| All Hokkaido Set | 10 people (Provided by Hokuren Agricultural Cooperative) |
| Kururu no Mori Ham and Sausage Set | 10 people (Provided by Hokuren Agricultural Cooperative) |
4. How to Enter
Visit AIRDO's website, and write your information in the necessary fields on the Special Promotions page to enter.
(The Special Promotions page will open at the same time as the renewed website.)
(2) The My AIRDO New Sign-up Promotion
1. Concept
All those signing up for My AIRDO for the first time receive 400 points as our gift.
2. Sign-up Period
Fri, Sep 1-Tue, Oct 31, 2017
3. Number of Bonus Points Awarded and Their Expiry Date
400 points (Expiring Fri, Nov 30, 2018)

Note:

•The expiry date cannot be renewed.
4. Period Points Are Received
November 2017 (Tentative)
5. How to Sign Up
From the AIRDO website, go to the My AIRDO New Sign-ups page, and write your information in the necessary fields to enter.