Contributions to Local Communities
Flight Classes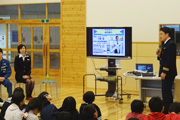 Since 2009, AIRDO has been partnering with the Hokkaido Education Bureau on activities to assist children with career development, and has been hosting "Flight Classes" at elementary and junior high schools in the prefecture. These "classes" include experiments related to the flying of aircraft and activities to simulate in-flight announcements by cabin crew and pilots, as well as providing children with a detailed look at various airline jobs -- pilots, cabin crew, maintenance workers, etc. -- in order to help them get a feel for what flying-related careers are like.
Cumulative classes taught: 113 (2013-2016)
Cooperation Toward Community Revitalization
At AIRDO, we established a partnership (a "Comprehensive Partnership Agreement with Hokkaido") with the Prefecture of Hokkaido in November 2011 for the purpose of collaborating and partnering on efforts to revitalize Hokkaido, and we've been collaborating on a variety of local revitalization efforts, including the sharing of information related to local cuisine and tourism.
Additionally, Hokkaido is looking forward to the 150th anniversary of the establishment of the prefecture in 2018. AIRDO is participating in the Hokkaido 150 project as a partner company.
Support and Participation in Community Development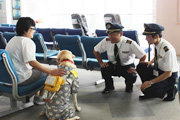 At AIRDO, we support community development initiatives as a locally based airline, and through our participation in those initiatives, we contribute toward local community cooperation and regional development.
(This includes our support for Ainu Culture, our support for the Hokkaido Jomon Culture Promotion Council, our participation in the Cool Hokkaido Network, our participation in the Hokkaido Welfare Urban Development Promotion Council, our support for the Hokkaido Association for Promotion of Sports for the Disabled, and our support for the Hokkaido Guide Dogs for the Blind Association.)
Cooperation Toward Renovating the Hokkaido University Museum
Hokkaido University has accumulated some four million specimens and other items that it has collected, stored, and studied over a period of time going back to its days as the Sapporo Agricultural College over 130 years ago, and the museum was renovated in July 2016 in order to exhibit these items.
AIRDO provided its cooperation and collaboration with these renovations from the unique industry viewpoint of an airline, particularly in connection with Ukichiro Nakaya's research on the formation of ice on airplane wings, which appeared in the Arctic Research Center's panel exhibition and Hokkaido University's Northern Research for Supporting Life project.
Going forward, AIRDO will continue in its efforts to support the local community as a member of this industry-academia partnership.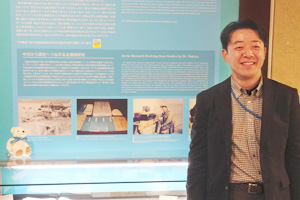 Junji Yamamoto, Associate Professor, Hokkaido University Museum
AIRDO received a letter of appreciation from Hokkaido University.