Activities for Educating People
Flight Classes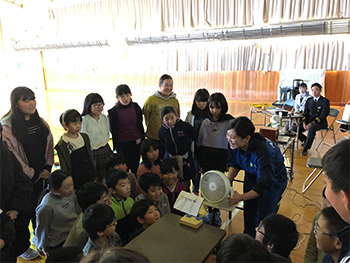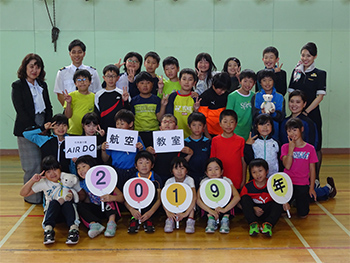 Since 2009, we have been cooperating with the Hokkaido Education Bureau in our "AIRDO Flight Classes" as time for comprehensive learning at elementary and junior high schools in Hokkaido, an activity assisting with career development training for children. To the present, over 15,000 students have taken part. Our aircrew, cabin crew, aircraft maintenance workers, and other employees visit schools to talk about the attitude that they bring to their work, their motivation, and the importance of communication by explaining their respective jobs and the mechanisms that make airplanes fly, providing in-flight announcement experiences, and more. AIRDO continues forward with the "Flight Classes" as it strives for them to create an opportunity for children to think about their own dreams for the future.
Cooperation with Career Development Education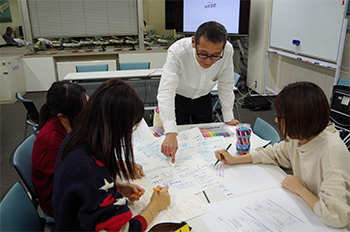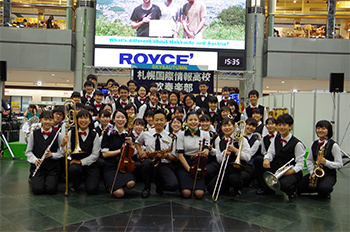 We are pushing forward with our educational partnership and coordination initiatives with high schools, universities, and other such institutions in Hokkaido with the goal of "contributing to human resources education supportive of Hokkaido's future." Through our partnership agreement with Hokkai-Gakuen University's Faculty of Business Administration and Faculty of Humanities, the faculties bring in instructors from AIRDO to various classes they have begun while we invite their teachers to provide lectures at our internal study meetings, strengthening our connection to one another.
In our cooperative work with Sapporo City University's School of Design, we conduct a variety of initiatives, such as our Coordinated Design Project (2018), in which we planned and created stickers to hand out to passengers in commemoration of our 20th anniversary, as well as our Service Design for More Comfortable and Smoother Use of Aircrafts (2019).
Our partnership with the Hokkaido Sapporo Intercultural and Technological High School Band has led to the transmission of new culture originating in Hokkaido while deepening our exchange with the students through the joint dancing and musical performance, "DanPlay" ("Dance & Playing").
Special Support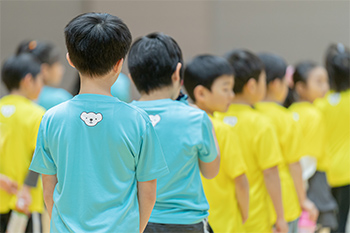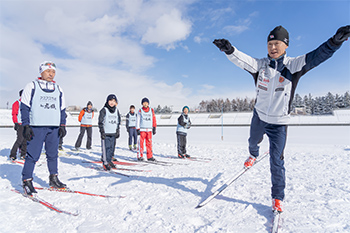 AIRDO offers special support to the Athlete & Manual (generally referred to as "Asuasu Labo" in Japanese) sports project started up by A-bank Hokkaido (representative director: former Consadole Sapporo player, Yushi Soda) and Kotetsu Noodles (CEO: Takashi Tsuchiya) in November 2019. Asuasu Labo offers all children an opportunity to learn by inviting top athletes to Hokkaido each month and holding athletic classes, turning the information from interviews into teaching materials, and archiving them in specially created websites. The wish behind this effort to support children in their dreams and futures is the same as that of AIRDO's "Flight Classes". We at AIRDO will continue supporting Asuasu Labo with everything we've got!