Activities for Placing Importance on (Hokkaido's) Nature
"Company Reforestation" Initiatives Based on Tree-planting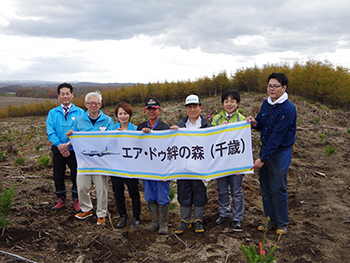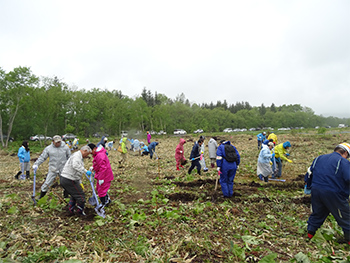 Since 2008, we've been involved with tree-planting activities in six areas in Hokkaido where we offer flights (Chitose, Asahikawa, Hakodate, Memanbetsu, Obihiro, and Kushiro) together with the "Hokkaido Company Reforestation" project in Hokkaido to conserve its bountiful environment. In addition to tree-planting, we've also been performing upkeep with the trees we've planted to the present and offering continuous care in raising our trees (pruning, thinning, additional planting, and more) since 2019.
Breakdown of Tree-planting Activities
Target area
Coverage area
Number of trees
Saplings
Tree-planting period
Chitose area (Horoka)
5.0ha
10,000
Abies sachalinensis, Japanese larch
Sep, 2008
Asahikawa area (Higashikawa)
1.0ha
1,500
Quercus crispula, silver birch, Fraxinus mandschurica
Oct, 2008
Hakodate area (Hokuto)
0.78ha
1,950
Japanese beech, Quercus crispula
Oct, 2008
Memanbetsu area (Bihoro)
1.0ha
2,000
Japanese larch
Nov, 2008
Obihiro area (Shintoku)
1.0ha
2,000
Japanese larch
Jun, 2012
Kushiro (Teshikaga)
3.0ha
600
Sargent's cherry
Jun, 2015
680
Sargent's cherry, Fraxinus mandschurica
Jun, 2016
450
Fraxinus mandschurica
Jun, 2017
Chitose area (Horoka)
1.0ha
3,000
Abies sachalinensis, Japanese larch
Oct, 2019
Eco-Friendly Initiatives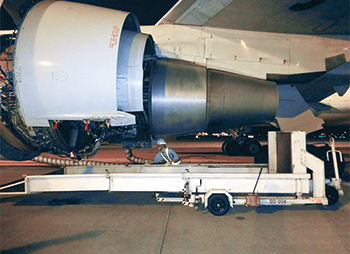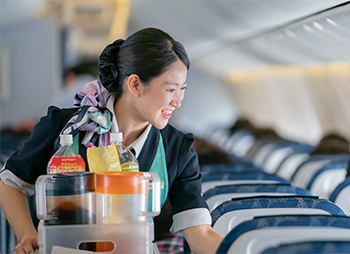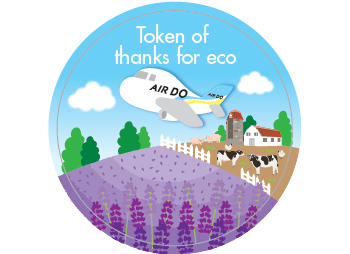 Operation initiatives
A fine coating of grime accumulates inside aircraft engines over time as they are used, reducing their combustion efficiency, so our method for reducing fuel consumption is to restore combustion efficiency by rinsing out engines with water. We also strive to improve efficiency premised on safe aircraft operations and reduce CO2 emissions by selecting routes and altitudes with better fuel efficiency as well as performing gradual descents -- techniques which enable us to reduce our fuel consumption.
In-flight initiatives
As a means of reducing the amount of plastic materials we use, we have changed the muddlers used with our in-flight drink service from plastic to paper construction. We also give out original stickers to customers declining a bag for their in-flight shopping product purchases. AIRDO aims to reduce the amount of disposable plastics used onboard through our passengers' understanding of and cooperation with our eco-friendly initiatives.