Our Haneda Airport Counter Reopened After Renovations on Friday, June 23!
Jun 16, 2017
We offer a friendly welcome to one and all,
with a design that reflects Hokkaido.
AIRDO Co., Ltd. (hereinafter "AIRDO") reopened its newly renovated Haneda Airport counter on Friday, June 23. At AIRDO, we strive to offer the full range of services required of a "one-of-a-kind airline" that is worthy of our slogan, "the Wings of HOKKAIDO", and the renovation and reopening of our airport counter is a part of those efforts.

The concept driving these renovations was to provide an airport counter that "offers a friendly welcome to one and all, with a design that reflects Hokkaido". With the basic theme of providing a wood-texture design that helps visitors feel warmth and friendliness, our goal has been to provide a counter with easy-to-use, easy-to-understand functionality that customers of all ages can feel safe and secure in approaching.

Today, to commemorate our reopening, we will conduct an unveiling ceremony in front of the Haneda Airport counter at 10:30. Please feel free to take this opportunity to visit the new AIRDO airport counter.
1. Features of the New Counter
"A design that is welcoming to one and all"
We designed the counter to comply with universal design principles, such as low counters and pictograms (visual symbols) to improve visual perceptibility, which was needed in order to improve accessibility (ease of use and barrier-free access).
"A design that adds Hokkaido flair to the start of one's journey"
This design uses wood textures on all surfaces to create a sense of warmth and friendliness.
"A travel concierge desk"
We aim to provide customer-centric service by employing Hokkaido tourism experts, Hokkaido food experts, and service assistant qualification maintainers.

We are planning to renovate our counter at New Chitose Airport this winter based on the same design concept.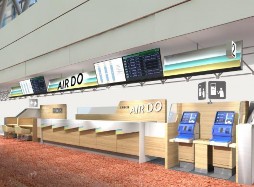 Illustration of new counter
2. Unveiling Ceremony Overview (Airport Personnel, Cabin Crew, and AIRDO Officials in Attendance)
Introduction and description of the new airport counter
Social media event: "Be the first to share photos!"

*1

Introduction of new service: "Game Sheet for Adults"

*2

Ceremonial cake-cutting and photo session
Yubari melon jelly sampling: "Support Yubari!"

*3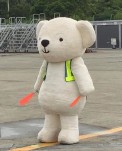 BearDo
Notes:

*1 The first 100 people who share photos of the new airport counter using the hash tag #AIRDOcounter on social media networks and show the screen to the personnel at a special booth set up by the counter will receive a present. (This event lasts from 10:30 a.m. to 1:00 p.m.)
*2 "Game Sheets for Children" that are hand-made by AIRDO employees are available on our flights, and now, as a means of aiding communication between cabin crew with Hokkaido food expert qualifications and our passengers, we have created new "Game Sheets for Adults".
Furthermore, in order to commemorate the introduction of new services, cabin crew members who possess any of the aforementioned three qualifications will be hosting "Special Flights" that same day, June 23 (flights ADO12, 19, and 20).
Please feel free to give us your feedback when you fly with us.
*3 AIRDO participated in Hokkaido Series 2017 'We Love Hokkaido,' put on by the Hokkaido Nippon Ham Fighters, as an effort toward community development, and we will be participating in the same event series this year, proclaiming the message "Support Yubari".
In conjunction with these renovations, we will be carrying out construction to upgrade the counter at night from Tuesday, June 20 to Thursday, June 22. We apologize for any inconvenience this may cause for our customers.