AIRDO Skymate (Youth Special)
A special discount fare for passengers age 12 to 25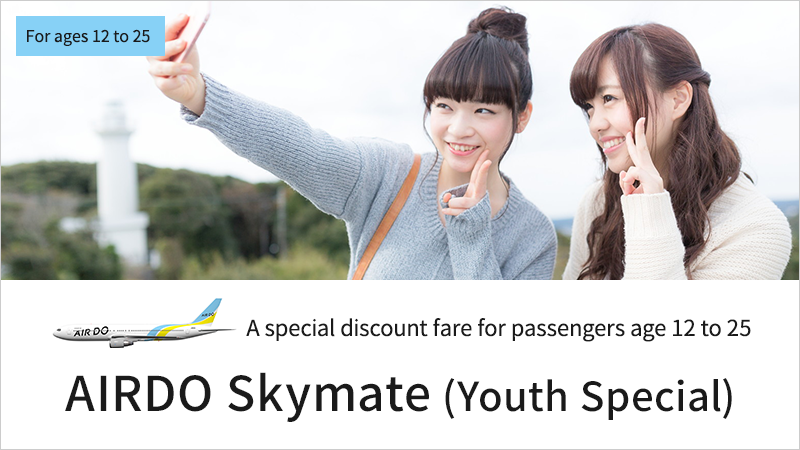 AIRDO Skymate (Youth Special)
Available for Passengers Below the Age of 26
Passengers between the ages of 12 and 25 may benefit from this fare by presenting official identification with their date of birth or a Skymate membership card from another airline.
How to Use AIRDO Skymate
Check seat availability at the airport counter on the day of your flight.
Note:

If there are few available seats but we expect seats to remain available until departure, we will let you proceed with the boarding procedure.

Note:

You cannot make a reservation online or through the Reservation Center. This can only be used if open seats are available on the day of boarding.
About AIRDO Skymate (Youth Special)
During the period from March 29 to 31, 2020, the AIRDO Skymate (Youth Special) will be available as normal, but starting April 1, 2020, they will be replaced by the DO Youth 25.
You can head to the airport after completing your reservation and purchase at home, and you can go directly to security inspection without stopping at the airport counter, which will make boarding go more smoothly than ever.
Clickherefor details.
Cost of Fare
View Fares(AIRDO Skymate)
| Routes | Tokyo - Sapporo | Tokyo - Asahikawa | Tokyo - Memanbetsu | Tokyo - Kushiro | Tokyo - Obihiro | Tokyo - Hakodate |
| --- | --- | --- | --- | --- | --- | --- |
| Jun 21th-Mar 12th | JPY 9,800 | JPY 9,800 | JPY 9,800 | JPY 9,800 | JPY 9,800 | JPY 9,800 |
| Mar 13th-Mar 31th | JPY 16,900 | JPY 16,900 | JPY 16,900 | JPY 16,900 | JPY 16,900 | JPY 16,900 |
| Routes | Sapporo - Sendai | Sapporo - Nagoya | Sapporo - Kobe | Hakodate - Nagoya |
| --- | --- | --- | --- | --- |
| Jun 21th-Mar 12th | JPY 9,800 | JPY 9,800 | JPY 9,800 | JPY 9,800 |
| Mar 13th-Mar 31th | JPY 12,300 | JPY 16,900 | JPY 16,900 | JPY 16,900 |
View Fares(DO Youth 25)
| Routes | Tokyo - Sapporo | Tokyo - Asahikawa | Tokyo - Memanbetsu | Tokyo - Kushiro | Tokyo - Obihiro | Tokyo - Hakodate |
| --- | --- | --- | --- | --- | --- | --- |
| Apr 1st-Jul 2nd | JPY 10,700 | JPY 11,300 | JPY 11,300 | JPY 11,300 | JPY 11,300 | JPY 10,700 |
| Jul 3rd-Aug 31th | JPY 16,900 | JPY 17,500 | JPY 18,400 | JPY 17,500 | JPY 17,500 | JPY 16,900 |
| Sep 1st-Oct 24th | JPY 10,700 | JPY 11,300 | JPY 11,300 | JPY 11,300 | JPY 11,300 | JPY 10,700 |
| Routes | Sapporo - Sendai | Sapporo - Nagoya | Sapporo - Kobe | Hakodate - Nagoya |
| --- | --- | --- | --- | --- |
| Apr 1st-Jul 2nd | JPY 9,800 | JPY 11,300 | JPY 11,300 | JPY 10,700 |
| Jul 3rd-Aug 31th | JPY 12,300 | JPY 17,500 | JPY 18,400 | JPY 16,900 |
| Sep 1st-Oct 24th | JPY 9,800 | JPY 11,300 | JPY 11,300 | JPY 10,700 |