AIRDO Skymate (Youth Special)
A special discount fare for passengers age 12 to 25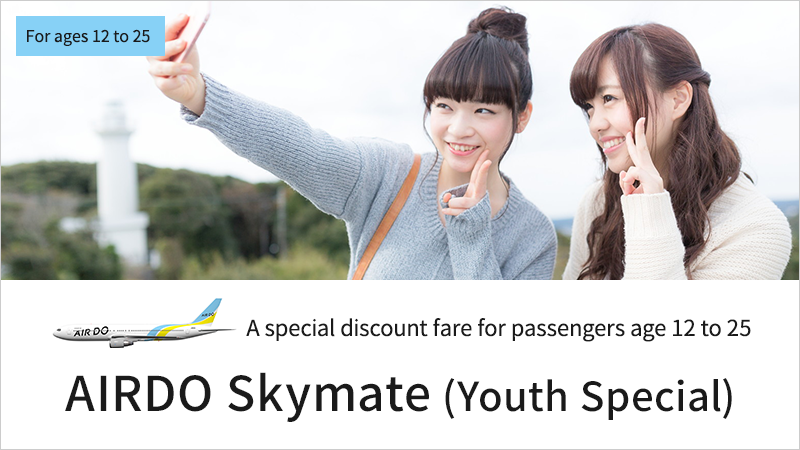 AIRDO Skymate (Youth Special)
Available for Passengers Below the Age of 26
Passengers between the ages of 12 and 25 may benefit from this fare by presenting official identification with their date of birth or a Skymate membership card from another airline.
How to Use AIRDO Skymate
Check seat availability at the airport counter on the day of your flight.
Note:

If there are few available seats but we expect seats to remain available until departure, we will let you proceed with the boarding procedure.

Note:

You cannot make a reservation online or through the Reservation Center. This can only be used if open seats are available on the day of boarding.
Cost of Fare
Aug 20 - 2020,Oct 28
One flat price for all routes
JPY 9,800
※The fare amount varies for some periods.
(※View fares for details.)
View Fares
| Routes | Tokyo - Sapporo | Tokyo - Asahikawa | Tokyo - Memanbetsu | Tokyo - Kushiro | Tokyo - Obihiro | Tokyo - Hakodate |
| --- | --- | --- | --- | --- | --- | --- |
| Sep 1st - Dec 12th | JPY 9,800 | JPY 9,800 | JPY 9,800 | JPY 9,800 | JPY 9,800 | JPY 9,800 |
| Dec 13th - 2020,Jan 5th | JPY 16,900 | JPY 16,900 | JPY 16,900 | JPY 16,900 | JPY 16,900 | JPY 16,900 |
| 2020,Jan 6th - Mar 12th | JPY 9,800 | JPY 9,800 | JPY 9,800 | JPY 9,800 | JPY 9,800 | JPY 9,800 |
| 2020,Mar 13th - Mar 28th | JPY 16,900 | JPY 16,900 | JPY 16,900 | JPY 16,900 | JPY 16,900 | JPY 16,900 |
| Routes | Sapporo - Sendai | Sapporo - Nagoya | Sapporo - Kobe | Hakodate - Nagoya |
| --- | --- | --- | --- | --- |
| Sep 1st - Dec 12th | JPY 9,800 | JPY 9,800 | JPY 9,800 | JPY 9,800 |
| Dec 13th - 2020,Jan 5th | JPY 12,300 | JPY 16,900 | JPY 16,900 | JPY 16,900 |
| 2020,Jan 6th - Mar 12th | JPY 9,800 | JPY 9,800 | JPY 9,800 | JPY 9,800 |
| 2020,Mar 13th - Mar 28th | JPY 12,300 | JPY 16,900 | JPY 16,900 | JPY 16,900 |