Message from the President
As the "Wings of HOKKAIDO"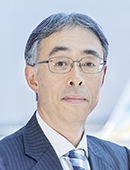 Representative Director and President
Susumu Kusano
Let me express my sincerest gratitude for your continued support.
One of our corporate philosophies at AIRDO is to "contribute to the development of local communities as the Wings of HOKKAIDO," and continuing into the present, we have expanded our community contribution projects through the establishment of the three key areas of "CSR Activities," "environmental conservation," and "disaster recovery assistance."
From the perspective of contribution to local communities, we have poured our energy into activities educating people through flight classes, career building education, and more; and in terms of environmental conservation, we have gone forward with activity conscious of our home of Hokkaido through such efforts as tree planting. As for disaster recovery assistance, we have deepened our awareness of the importance of contributing to society through the continued offering of aid such as transport cooperation during disasters.
Upon reflection of this, we have taken advantage of the "Medium-term Corporate Strategy FY2019-2023" to set forth "educating people," "placing importance on (Hokkaido's) nature," and "contributing to society (disaster recovery assistance)" as our three new key areas regarding CSR Activities.
Based on these three key areas, we will continue developing AIRDO's unique activities implementing its strengths and management resources. I would also like to add that we deeply appreciate your ongoing support as I and every single employee work to grow together with communities as the "Wings of HOKKAIDO."
Representative Director and President