We Now Offer Compatibility with the Wallet (Formerly Passbook) App for the Apple iPhone!
Customer Feedback
SKiP Service is incredibly convenient, but I would like you to make it possible to save the 2D Barcode on Apple's Wallet app too.

Response
We apologize for the delay.
As of February 16, 2017, we have added the functionality to save the 2D Barcode needed for using SKiP Service*1 on the Apple iPhone Wallet app*2,3 (formerly called Passbook).
Instructions for saving 2D Barcode are as follows.
On your iPhone, display a reservation for which you have completed payment and seat selection on the AIRDO website.
Follow the on-screen instructions to display the 2D Barcode.
Tap "Add to Apple Wallet" on the screen that displays the 2D Barcode.
Tap "Add", which appears in the top-right corner of the Pass that is shown to finish saving it to Wallet.
Launch the Wallet app and check the Pass (Image).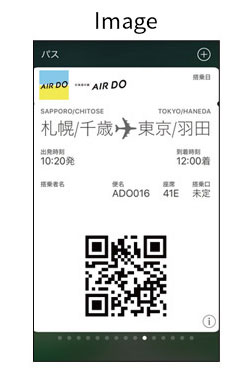 Important:

If you change your reservation, you must save it to Wallet again to have Wallet be updated with the changes.
If you update Wallet on or after 4:00 p.m. on the day prior to the date of boarding, the boarding gate will be updated.

*1 SKiP Service is a registered trademark of ANA.
*2 iPhone, Passbook, and Wallet are registered trademarks of Apple Inc. in the United States and other countries.
*3 The iPhone Wallet (formerly Passbook) is an application for ticket and point card management that combines the functionality of various tickets and cards in one place.